Much effort goes into keeping children occupied and entertained.
Things can become tasking for parents, especially when finding healthy snacks for kids and getting the perfect costume for the season.
That's why it is vital to introduce The Academy, games, and children's movies whenever you can to your child's routine.
If you know the right set of movies to pick, it becomes another learning avenue for your little one with slight strain on your part.
Also, movies are a great way to bond with your kids, cry, laugh, and – more often than not – get memorable quotes that become part of your family.
Whatever you choose— whether something comedic for the little ones or something thrilling and imaginative for the older kids, you are sure of having a good time.
List of 8 Fun Movies to Enjoy with Your Children
Like a well-written book that allows children to imagine new worlds and people, a well-crafted movie is also a powerful, entertaining tool for children.
Sometimes, when your child throws tantrums, a movie can somewhat calm them and set their mood right.
When your loved ones are stressed and need a break—and games for kids such as baby pianos no longer entertain them, a movie might be the solution.
So go ahead, curl up on the sofa with your kids, serve healthy snacks and unwind from the day.
Here are movies that are children-appropriate and also interesting enough for adults to want to watch too.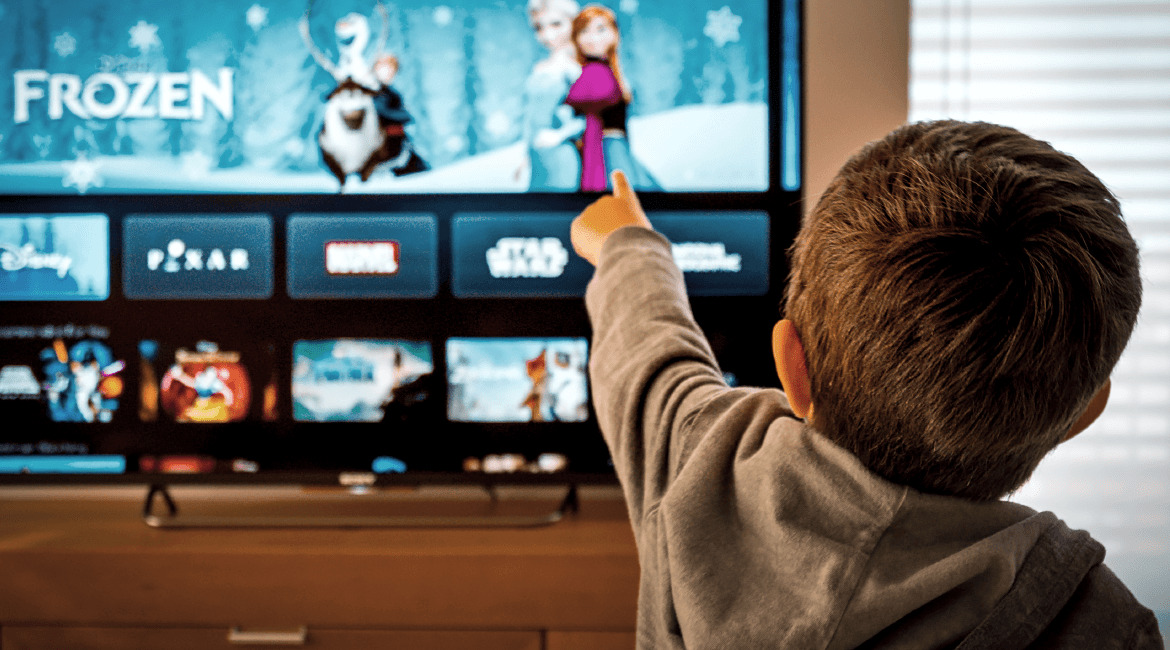 1. Frozen
In this epic movie, the main characters, Elsa and Anna, learn the actual value of a strong sibling bond as they fight an unlikely enemy.
The plot focuses on family importance, making it a suitable movie to watch with your kids.
However, be prepared to sing along with your lids to the catchy tunes in the movie and fall in love with other characters like Olaf and Sven, who are just adorable.
2. Dolittle 
This 2020 fantasy children's film deserves all the hype and accolades received! The movie's plot is about a physician who can communicate with animals.
Like a good fairy tale, Dolittle gives viewers a backstory using storybook illustrations to captivate everyone.
If you are free for a movie marathon with your children and family, this would be a great pick as you watch him find a cure for the queen's ailment.
3. The Lion King
The Lion King is one of those movie classics that everyone enjoys watching. The movie is not only heart-warming, but there are several essential lessons children learn.
One lesson from the movie is "Hakuna Matata," which means "No worries for the rest of your days."
The phrase teaches children happiness and the importance of optimism which they need to learn from a young age.
4. The Boy Who Harnessed the Wind
Set in a small farming village in Malawi, this film is the kind of inspirational story your science-loving child might love.
Based on a true story, this follows a 13-year-old boy, William, who teaches himself how to create a windmill to solve his town's drought problems.
The movie will teach your kids never to give up and how to listen to constructive criticism. However, most importantly, it will lead them to think creatively.
5. Kung Fu Panda
It's the story of Po, who overcomes mockery, becomes a Kung Fu warrior, and also brings peace and happiness to people in distress.
The movie teaches children to:
Not despise or mock people because of their physique, color, and other factors.
Have complete faith in themselves.
Acknowledge their weaknesses and work on them with sincerity and determination.
6. Dr. Suess' The Grinch
No rule states that Christmas is the only time to watch a holiday movie about love, compassion, kindness, and generosity.
The beautifully animated film is appropriate for most younger viewers, as it has several comedy scenes they will enjoy.
If you are watching the movie for the first time, expect a thrill from the falls from heights, jumping, speeding on sleds, and lots more scenes.
7. Zootopia 
What would this list be if Zootopia is not featured? The plot of the movie follows Judy Hopp's dream of joining the police force.
To achieve this goal, she relocates to the bustling metropolis Zootopia; however, her fellow police officers require her to prove herself before taken seriously.
You will find this film oddly satisfying to watch with your kids as you she enlists the unwilling help of a cunny fox, solves a rabbit hole of clues, and survives close calls.
Will Judy finally prove herself to her police colleagues? Watch the movie to find out!
8. A Wrinkle in Time
The movie is a book adaptation probably on your child's school reading list. Imagine the shock when they know that they can watch the story's magic on a screen.
The film, directed by Ava DuVernay, is an interesting watch because of the unique themes and science-fiction (Sci-Fi) included.
The plot follows Meg's life when her father goes missing immediately after a scientific breakthrough.
Following her father's disappearance and encounter with mystical creatures, Meg embarks on a quest with her brother and friend to find her dad.
While this movie might not be to your liking as an adult, it is defiantly worth watching at least once with your children, especially if they enjoy it!
Conclusion
There are endless options of children's movies — from old classics to remakes and reboots to the new sequels, plus plenty of new ones.
However, finding something the whole family, including you, can enjoy is essential.
Movie night is one of the rare moments that involves everyone. From the youngest child to the oldest, a great movie can enchant you all in.
Whether you are watching from your home's comfort or at your local cinema, there are plenty of things to discuss and share with your little ones after the movie.
If your movie selection is as good as the list above, you would not feel wrong about your child in front of a screen.