Christmas, Valentine's Day, and coming up, Easter! It seems parents can barely catch a breath before we need new ideas to keep our kids involved in the holiday happiness. Easter usually occurs at the beginning of Spring, so dying eggs and having an outdoor egg hunt are common. They certainly are fun, too, but are you looking for fresh and exciting new Easter ideas for you and your children? 
An Easter Scavenger Hunt
Most children do an egg hunt on Easter, so this would be an additional activity. Parents can make a list of anything, and the hunt can be indoors or outdoors―or both!― and kids can work in teams or individually, depending on age. This activity is extremely flexible. Some ideas are finding items by color, items that start with certain letters, or items that are certain shapes. If you wanted to be even more specific, you could list items in the house children would consider difficult to find.
The Gift of Giving
Easter is a terrific time of year to remind children that giving is better than receiving. Help them create an Easter basket for a friend or neighbor. As a family, talk about ways you can put together a basket of goodies for someone in need, shop together, and deliver your basket. Remember the message of the holiday and the spirit of the season. Many older neighbors live alone and would simply appreciate the visit.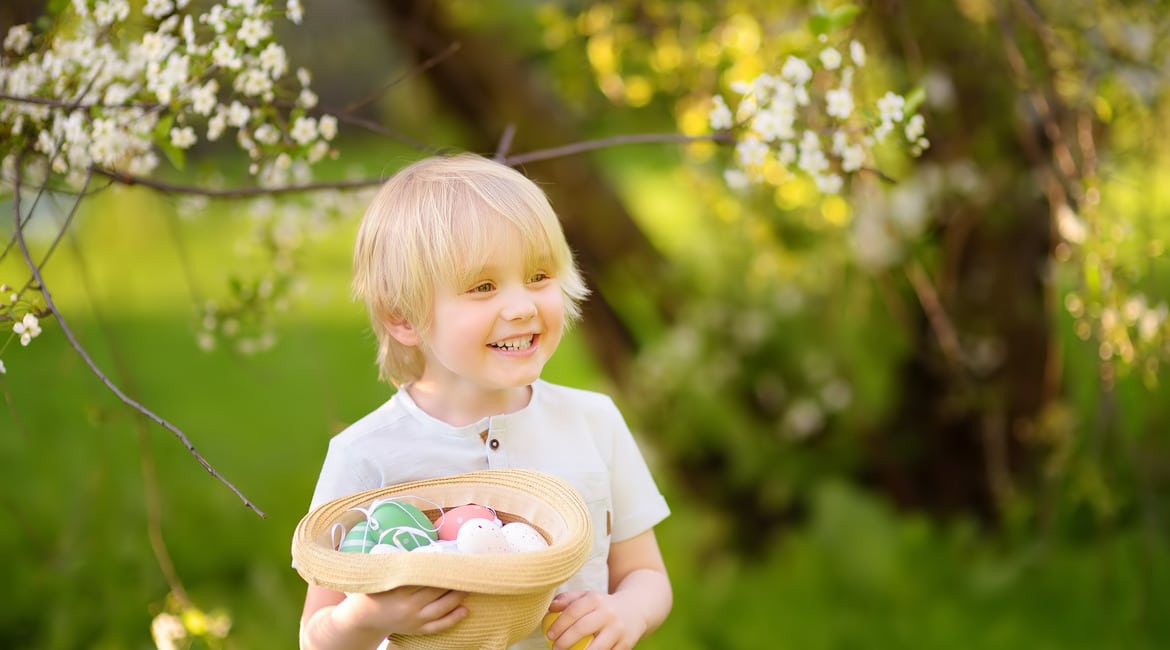 Another way to give is to collect extra groceries and donate them to a local food bank or shelter. Easter is a good time to reflect on those who have fallen on harder times and may need some assistance from those who can afford to spare some. Children learn a valuable lesson from adults who give back to their community through charity.
Easter Crafts and Other Activities
You know crafts and holiday-themed activities are always a treat if you have little ones. Here are a few fun Easter-themed crafts and activities to try at home:
Hand Printed Easter Lamb: For this craft, you will need black paint, cotton balls, glue, a piece of construction paper, a pen, and a child's (willing) hand. Pour black paint onto a paper plate (or roller if you have one) and coat the child's hand. Slowly and carefully, make a black handprint on the paper, with the fingertips pointing 

down – 

the four fingers become the lamb's legs and the thumbprint becomes its head/face. Then, glue white cotton balls over the palm print of the hand, creating the lamb's body. After the paint and glue have dried, use the pen to make the markings on the lamb's face (the thumbprint). Don't forget a great big smile!  

Easter Word Scramble: On a piece of colored construction paper, list ten words associated with Easter. Easter, eggs, bunny, chocolate, and spring are some popular words. Then, write each word scrambled down the left side, holding your paper lengthwise. Down the right side, draw horizontal lines for the kids to unscramble the words. If your kids are older, try putting them on a timer to see who can solve the scrambled words faster.

Happy Easter To You Word Generator: Write "Happy Easter To You" across the top of a piece of paper, and see how many words you and your children can make out of the letters used in that phrase. Perhaps the winner gets an extra piece of chocolate!

Toilet Paper Roll Bunnies: Stand an empty toilet paper roll on its side. Use a pen to create bunny eyes, a small colorful pom for a nose, and use pipe cleaners for whiskers. Cut out long ovals for bunny ears!

Create Potato Egg Stamps: For this activity, you will need potatoes, which, when cut in half, are the same shape as eggs! You will also need several colors of paint, paintbrushes or sponges, paper, and a sharp knife to cut Easter egg patterns into the potato halves. I suggest doing the cutting before inviting the kids to join you―this part can be a bit time―consuming and even the most patient child can get squirmy!
Togetherness
Remember that the most important part of any holiday is being together as a family. Whether you prepare a meal together, craft, play games, or enjoy an Easter egg hunt in the fresh air, being together is a true blessing. No single activity can take the place of time together with loved ones on the holiday. Happy Easter to all.