There's nothing more exciting than designing a fun oasis for your child's bedroom. From infancy through the teenage years, kids will need many hours of good-quality shut-eye to grow and feel well-rested for each school day. Crafting a room that's functional and provides the essential qualities of a good sleep space can be easy if you know what elements to add to the space. Check out this guide for giving your kids a place to retreat to each day; a place where they will learn and grow for years to come.
Define Storage Space
The biggest problem with your child's bedroom is the lack of storage space for all of the toys, trophies and stuffed animals that they'll acquire throughout the years. Starting with your babe's nursery, you'll want to make sure their space includes storage spaces that are cute and convenient. Start by investing in clear storage bins for toys so that children can easily find what they're looking for. Look for beds with storage built-in underneath or toy boxes that double as seating. Keep stuffed animals in a hamper and Legos in labeled toy bins. Attach a shoe bin to the back of the closet door for added storage space for shoes, video games or hair bows.
Deck The Walls
The walls of your child's room can sometimes be underutilized. To make the most of the wall space, use the area to display your child's creativity and personality. Paint a wall with chalkboard paint and let your child's imagination run free. Use wall decals to design and easily change the theme of the room as your child grows. Design a wall collage with fun pictures, a mirror and artwork crafted by your child. For bookshelves that are user-friendly and clutter free, hang holders on the wall and place the books inside for easy grabbing and cute storage.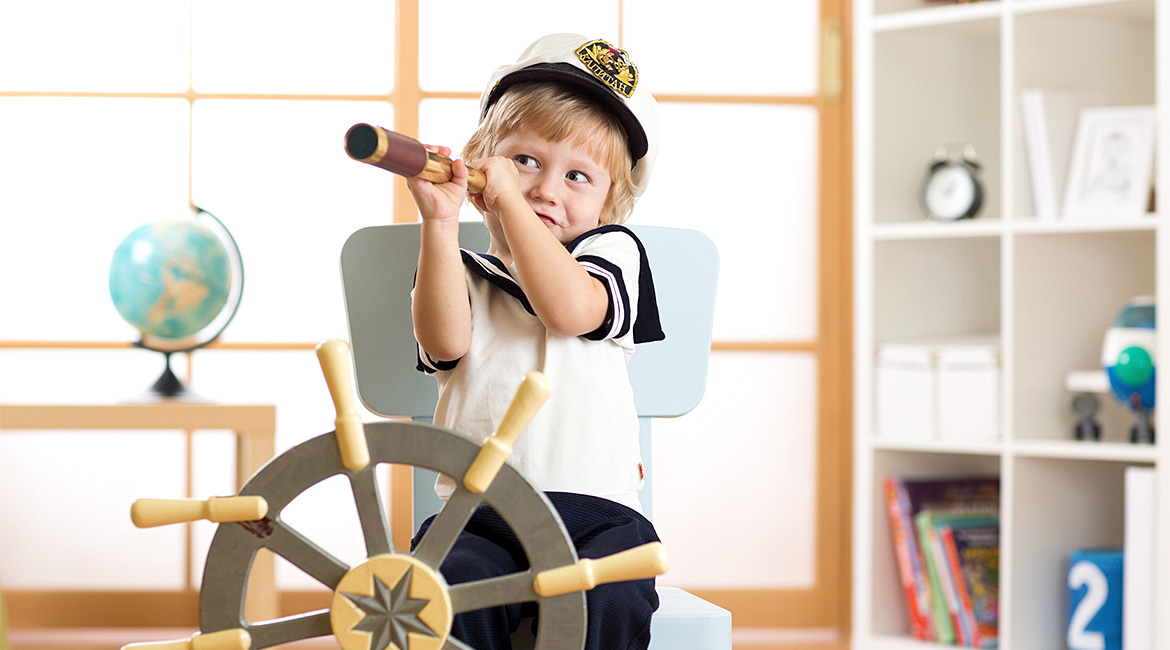 Change It Up
Keep in mind that a nursery is a much different space than a teenager's room, so you'll want to invest in statement pieces and furniture that will grow with your child. Think about buying a crib that turns into a toddler bed followed by a big kid bed that will last through the teenage years. Turn the top of a nice dresser into a changing table instead of buying one that won't have a lot of longevity. Invest in cute bins and baskets that will work for baby life and teenager life.
Cue The Closet
Closets come in all different sizes. No matter if your kid's closet is small or large, there are ways to make sure that you use all the space available to you. The first step is to think about adding double hang or triple hang to your closet space. This will provide extra hanging areas for clothes that can be rearranged as the child grows. You can also invest in shelving at the bottom of the closet where you can store shoes or baskets with extra items.
Use Patterns Wisely
When planning your child's bedroom, make sure to think about how themes will change as your child grows. A "Star Wars" bed may seem awesome when your child is seven but may seem less cool when your child is 17. Try instead to buy "Star Wars" bed sheets and a comforter so that you can easily change without having to buy a whole new bed. Also, you'll want to choose patterns for the rugs, pillows and curtains that will grow with your child.
Go Crazy!
After all, kids are only kids for a short amount of time so you might want to make their bedrooms as magical as possible. The sky's the limit for creative ideas for your child's sleep space. Think about a treehouse theme with a swing, a nautical theme with an actual boat bed, a princess carriage or a dresser made out of Legos. Having an over-the-top theme for your room can provide a world of wonder and fun for your growing babe.
Sleep Safely
You can choose a wild room theme or one that grows with your child, just remember to ensure the safety of your child while building any furniture or bedroom items. In the nursery, you'll want to keep the crib away from any windows, remove extra bedding items from the crib and secure any cords or electrical outlets. As your child grows, you want to make sure to use safety straps to secure television sets or heavy dressers. And be careful of leaving on lamps or lights that may become too hot. You'll also want to make sure to have a system in place for home fires, including fire detectors in every bedroom and an escape ladder under the bed if needed.
Designing an awesome room that's special for your child is a fun and exciting experience that can help your child have a memorable and loving childhood. There are several apps available to help you design your space and choose the right theme for your child's space. When choosing a room, think about the things that make your child happy and secure. Providing them with this kind of caring space is all you need to ensure your little one has a space where they can learn, grow and sleep in the peace and quiet of their own individual area.