Christmas Day is one of those holidays families, especially kids, look forward to all year round. It is not because of all the gifts gotten at Christmas, but because this holiday allows families to create memories with one another.
Tips on Preparations for Christmas Day
Preparing for Christmas Day can be stressful and tedious. A few weeks before the celebrations, you might not have ticked off over half of the tasks on your Christmas to-do list. And before you know it, this holiday turns into a frenzy of challenging tasks.
Below you will find tips on how you can prepare for Christmas. These tips will help you celebrate the season differently.
Have a Budget
Before you even start getting your house ready for Christmas, you need to have a budget. Budgeting will help you prepare wisely and give an insight into how you can avoid any unnecessary splurges closer to Christmas day.
Hence, remember to include everything you need, such as food, decorations, gifts, Christmas cards, and other essentials.
Shop Early for Christmas Gifts
Thoroughly carry out your research on sales and discounts before the Christmas season. When you shop early, you have the time to pick the Christmas gifts to buy for people carefully.
Prepare Christmas Meals Early
Suppose there are any of your meals that can be prepared in advance, cook and freeze it so that you can only reheat them on Christmas day. Also, prep your vegetables- potatoes, carrots, etc., overnight. These will save you time and also reduce disorganization on the morning of Christmas day.
Get Everyone Involved
Since the Christmas period focuses on enjoying quality time with family, why not get everyone involved to make the preparations for the 25th of December easier. Decorate your Christmas tree, choose ornaments, and prepare meals together as a family.
Entertainment and Unusual Christmas Games for Kids
Finding the right entertainment and games for kids to enjoy during the festivities can be tedious. You want them to enjoy the magic of the Christmas season and look forward to the celebrations every time.
The following are unusual Christmas games and entertainments your children can enjoy right from the comfort of your home.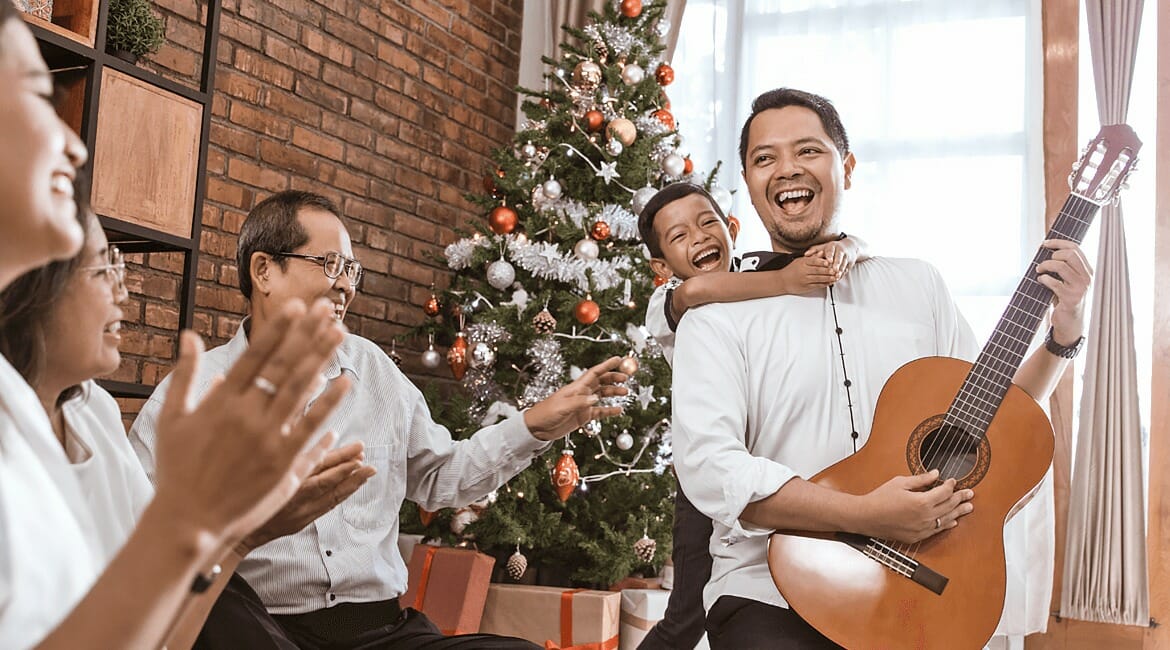 Christmas Karaoke
Whether children perform karaoke with friends or sing Christmas-themed songs around the Christmas tree, music can allow them to appreciate the holiday season.
Decorate a Gingerbread House
Children decorating gingerbread houses is an activity they would enjoy. You can choose to either purchase a gingerbread house kit or allow your little ones to bake a gingerbread from scratch. 
Sprinkle Reindeer Dust on The Porch
Sprinkling reindeer dust is bound to keep your kids entertained on Christmas day. You can make reindeer dust from colored sugar and edible sugar. To get the kids excites to participate, inform them that this activity is extra measures so that Santa can find the house on Christmas day.
To be creative, urge them to arrange the reindeer dust in the shape of an arrow to direct Santa to the location to drop off their presents.
Build a Christmas Cup Tower
Challenge your kids to participate in this unusual game by stacking green or red cups to form a Christmas tree. The winner would be the fastest child that creates the "tree."
Make a Human Christmas Tree
A human Christmas tree is a game young children can play with their families. They would need at least three family members or elderly friends dressed in green fabrics to serve as Christmas trees.
Divide each of the kids into teams and allow them to decorate each of the trees. The winner of the gams would be the best decorated "human Christmas tree."
Different Christmas Traditions to Try with Family
Christmas day is the perfect holiday for families to create traditions with children.  From the food to the games, there are many different Christmas traditions for every family.
Here are five options that add an element of surprise while making the holiday a little more special. These unique ideas are bound to leave lasting fond memories this year and every year after that.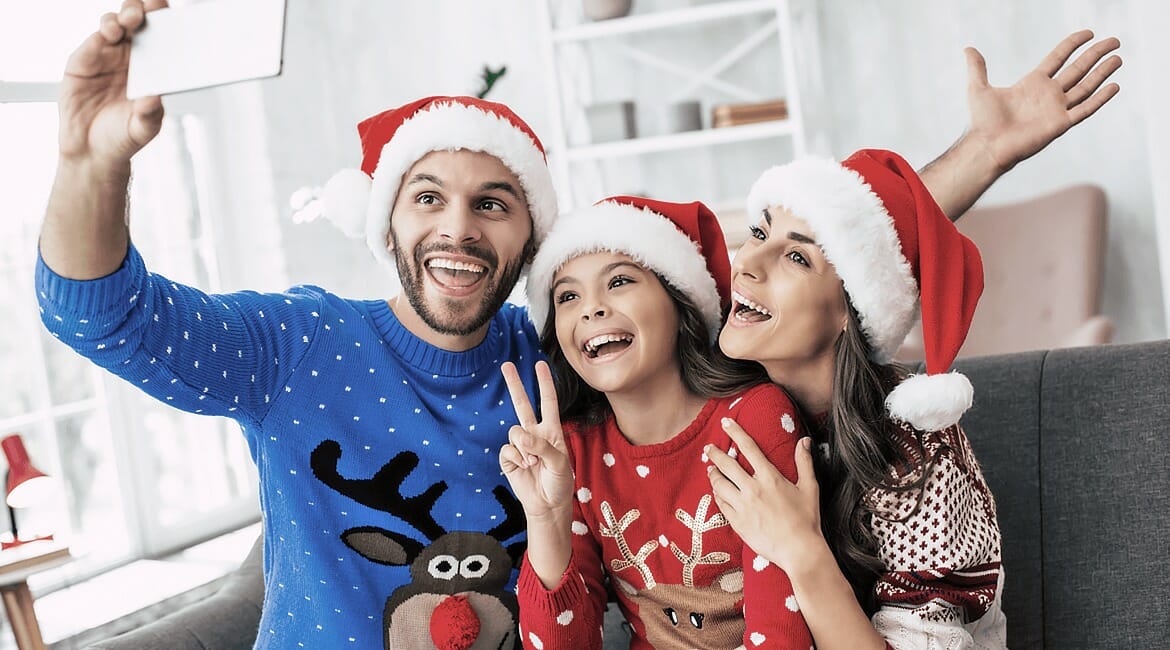 Write Letters to Santa
Writing letters to Santa is a classic Christmas tradition. Encourage your kids to add their Christmas lists while leaving thank-you notes for Santa.
Wear Ugly Christmas Sweaters
Break out ugly Christmas sweaters and have your family anonymously vote for the worst sweater. To get everyone excited, hand out candy as prizes.
Make Christmas Cards
DIY Christmas cards are a family tradition carried out on Christmas Eve. The children can hand out the cards to friends or family at Christmas dinner, or the cards can be used as an extra touch when wrapping gifts.
Host a Christmas Game Night
A family game night with everyone's favorite games is a fun tradition that people look forward to during the holidays. Wearing matching Christmas pajamas is the perfect uniform for a game night.
Watch a Christmas Movie
With several Christmas movies to choose from, there will hardly be a lack of entertainment for the family. Watching a merry film at night is the perfect option for everyone to bond and spend time together.
Interesting Facts about Christmas Day
There are several interesting facts about most of our Christmas traditions. Whether you are looking for a humorous or historical Christmas trivia to share with family, here are five interesting facts about the Christmas holidays.
It takes an average of six years to grow a mature Christmas tree.
A department store created Rudolph the Reindeer as a marketing strategy to encourage children to buy their Christmas coloring books.
The busiest shopping days in the United of America are the Friday and Saturday before Christmas day.
Some zoos accept Christmas trees and recycle them as feed for animals.
The total number of all the gifts in the Twelve Days of Christmas song is 364.
Conclusion
People around the world anticipate Christmas day celebrations. It is easy to get caught up during the Christmas preparations and activities.
Do not forget to relax and try new traditions that appreciate Christmas's meaning with your loved ones this festive holiday season.