Why Memory is Important for Children
The family vacation, the day you brought home a new pet, the time your child mastered a new skill–these are all moments to remember.  But why is memory important for kids, and how can you help improve your child's memory?
We know that memory is important because it is a photo album in your child's mind.  Without memory, your child would forget many wonderful moments he or she experienced earlier in life.
Memory is also important because it plays a large part in learning.  Much of early education depends on what can be committed to memory.  Children first learn to identify colors, letter shapes, and numbers; all of which require good working memory.
How To Make A Child's Memory Sharp
The good news is, there are many ways to improve your child's memory.  Memory is like a muscle; with good exercise, you can make memory stronger.  Here are a few ideas:
Keep Information In The Front of Your Child's Mind
When your child is learning something new, ask questions about it.  Keep your child talking about it.  Draw a picture of the concept or idea, sing a song about it.  The longer your child keeps new information in the front of his or her mind, the better the chance the information will move from short-term to long-term memory, making the information more permanent.  When the time comes to recall that information, it will be stored in an easier-to-reach part of the brain.
Create Real-World Connections
Whether the new information is math, art, reading, or science, find a way to make a real-world connection to it.  Daily activities such as cooking, walking outside, exercising, and shopping offer many opportunities to incorporate these topics.  Connecting new information to old information in a child's life helps bond the new memory to long-term memory storage in the brain, like a piggyback ride.
Make Your Child The Teacher
The strongest memories are made when a child teaches a new concept to another person.  So, if your child just learned to spell a new word, add three-digit sums, or the characteristics of amphibians, allow him or her to teach the material to you.  Then, like a student, ask your child questions about the new topic, as if you were the student.  This activity also reinforces the new information and helps sharpen memory for kids.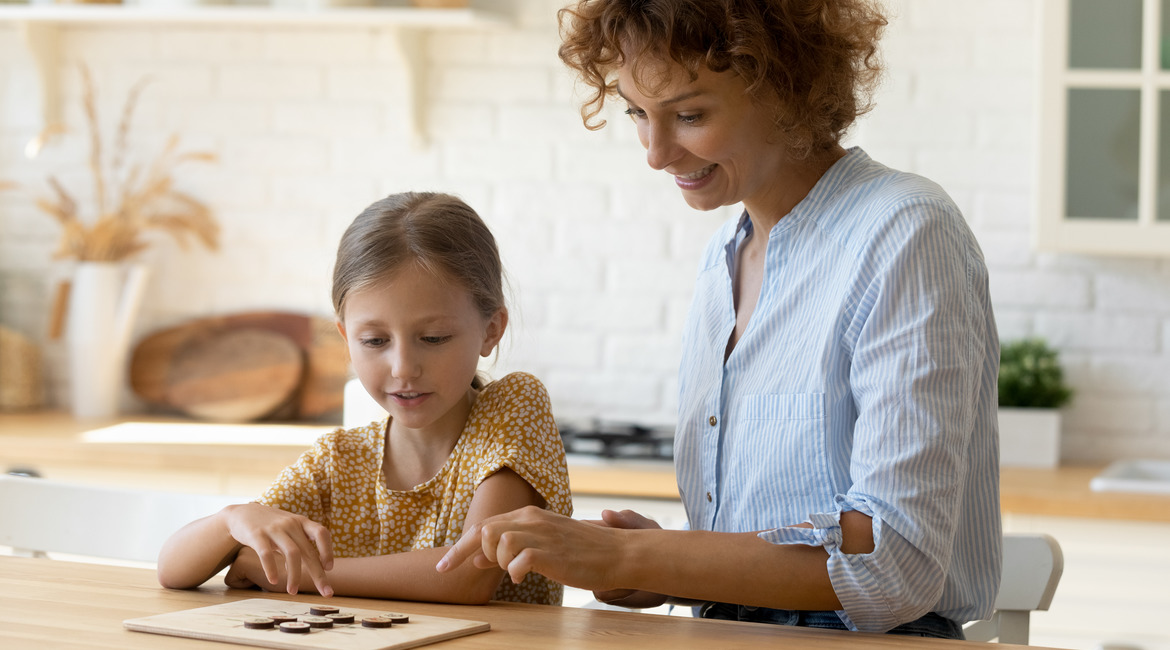 Matching Games to Improve Working Memory In Kids
If memory is like a muscle, to strengthen it, you simply find best the exercises.  Many memory games can be done with a simple deck of playing cards:
Basic matching: Pull out 10 number pairs and place them face down in random order.  Take turns trying to pick a matching pair. When the opponent doesn't make a match remember where the numbers were–you'll need them when you pick up your cards to make a match and win the game!  The player with the most matches when the cards are cleared is the winner.  Increase the number of pairs to increase the difficulty.
Easier matching: For younger children, try matching colors only (black or red cards), or suits only (spade, club, diamond, or hearts).  This will result in a higher probability of a match, giving younger children the chance to understand the game and remember where cards are placed before moving on to the challenge of remembering where the numbered cards are.
Advanced matching: Try using cards to create a sum.  This challenges the mind to remember not only where the numbered cards are on the board, but how they would add up to bring you the desired sum.  For example, if the sum is 10, players would have to find an 8 and a 2, or a 4 and a 6, or a 5 and another 5 cards to make a 'match.'  This is a difficult challenge for an adult memory!
Other Memory Games For Kids
The List Game
This is another fast-paced, fun memory game for kids.  All you need are a dozen or so household items, such as a pen, spoon, key, magnet, hair clip, bottle cap, or anything small and ordinary.  Place the items on a tray or large plate and have all players look at them for 30 or 60 seconds.  Then, cover the items with a towel or cloth.  Each player then has 60 seconds to write every item they can remember seeing on the tray.  Repeat with new items, or the same items placed differently.
List With A Twist
A twist on The List Game is to have the person 'running' the game remove one item from the tray or plate just after the items are covered.  Then uncover the items, and each player has 60 seconds to write the item that is missing.
The Coin Game
Want a quick and simple way to reinforce memory?  Try The Coin Game.  Place five of the same kinds of coins in a row on a table.  Create a pattern of heads and tails.  Give each player five of the same kind of coins.  Have all players look at the pattern for 60 seconds.  Then, cover the pattern and ask the players to recreate the pattern themselves.  If a pattern of five coins is too easy, increase the number of coins in the pattern.
Your Child's Memory
Improving your child's memory has many benefits: improved academic performance, faster recall a time, and enhanced ability to relive pleasant experiences.  There are fun, simple ways to keep your child's memory sharp.  Your child will reap the benefits of improved memory for years.