The Christmas holidays are a few days away—which means parents across the world are looking for different ways they can make their babies enjoy this festive season. At six months, babies have started exploring their environment and are sure to be dazzled by the Christmas lights and celebrations.
From interactive toys to useful baby gifts, there are many thoughtful things you can give your baby that they can play with and help build their creativity.
Advice When Getting Christmas Gifts for Babies
Do you have a newborn baby, a teething baby, or a baby who is always active? Knowing the developmental stage of the baby, you are getting Christmas gifts for is important as it gives you an idea of what to buy that would be beneficial to them.
Since newborn babies are curious and take in everything around, giving them anything that would provide sensory stimulation is a perfect gift idea. Hence, gifts like pacifier lovey, and toys that are clipped to their carriers are good for new babies. 
For most 3-4-month babies, this stage marks early teething, drooling, and gnawing. Teething toys and games that will keep them engaged is a wonderful Christmas gift idea.
As babies grow and become active and more mobile, you will find them taking more risks and adventures. Christmas gifts that engage and keep up with their energy, such as activity tables, balls, and ride-on toys, make awesome gift options.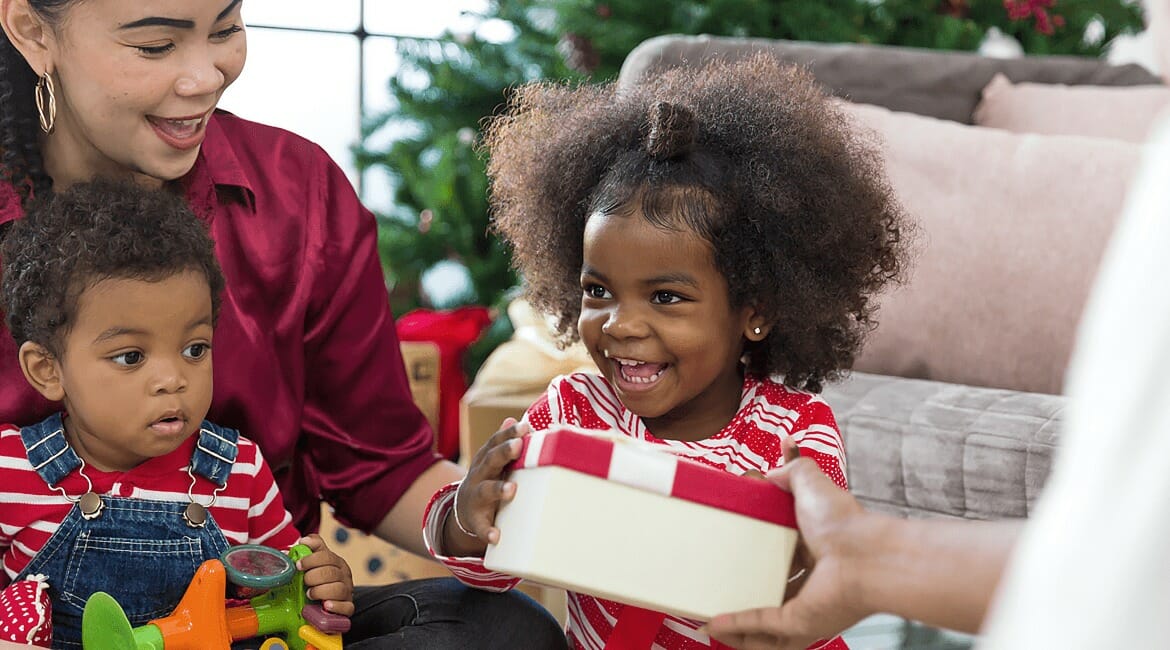 What Are Good Christmas Gifts for Babies?
The pressure of finding the perfect Christmas gift for your baby can be overwhelming. Since most parents might not be able to carry their toddlers to fun places for the Christmas festivities, you can still get them something special.
There is nothing cuter than the excitement on babies' faces when they are unwrapping a gift of colorful toys or items with interesting apes and textures. 
These ideas below are guaranteed to capture your toddler's attention and also put a smile on their faces.
Baby's Bedding Sets
Gifting bedding sets make a great Christmas gift for babies. When shopping for the set, you should opt for the colorful ones that have attractive designs, or you can choose to personalize it with the name of the baby.
Nesting Cups
It is usually the simplest objects such as cups and bowls that babies are drawn to play with. With nesting cups, it is no different, and the colorful shapes of the cups aid in building babies' thinking and problem-solving skills. An added advantage is that these cups can be used on the playground to scoop sand and water. 
Natural Rubber Teething Toy
Teething rubber toys are a universal favorite gift for babies. Made with non-toxic natural rubber, your baby can safely gnaw his aching teeth on the toy.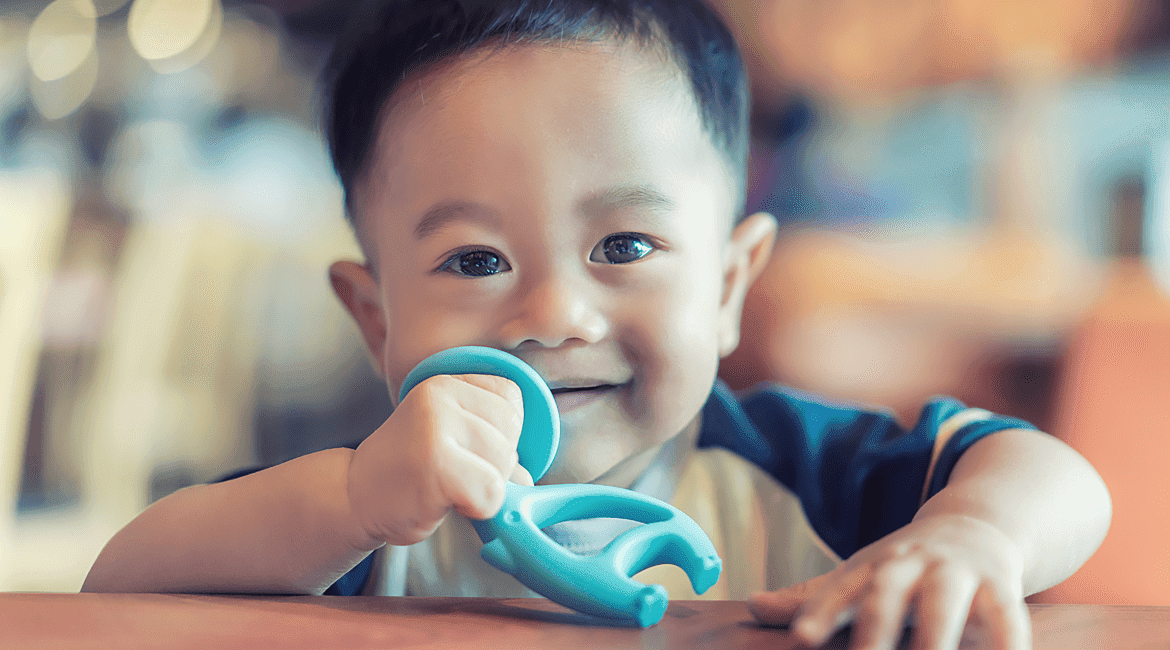 A Talking Cookie jar
A great Christmas gift for babies as young as six months is a talking cookie jar. Toddlers and pre-walkers will love retrieving cookies from the jar, and this gift will also teach them how to count from numbers one to ten. As a parent, you will love this gift idea because it introduces basic counting skills to your little ones and is a fun interactive way to improve their listening abilities.
Christmas Pajamas Set
Cute pajamas sets are one of the best Christmas gifts you can give babies. There is a reason why the Christmas photos of families are always the cutest; it's the little ones in pajamas that always win the show. When purchasing a PJ set, select an extra special pair for your baby with a Santa-themed design to fit the festive season. You can also get a matching Christmas pajama set for the whole family!
Bath Toys
When it comes to purchasing a gift for your baby during Christmas, you want to give them something that will not only keep them entertained but will also stop their tantrums. That is where these bath toys come in handy; it transforms their bath time into a playful experience.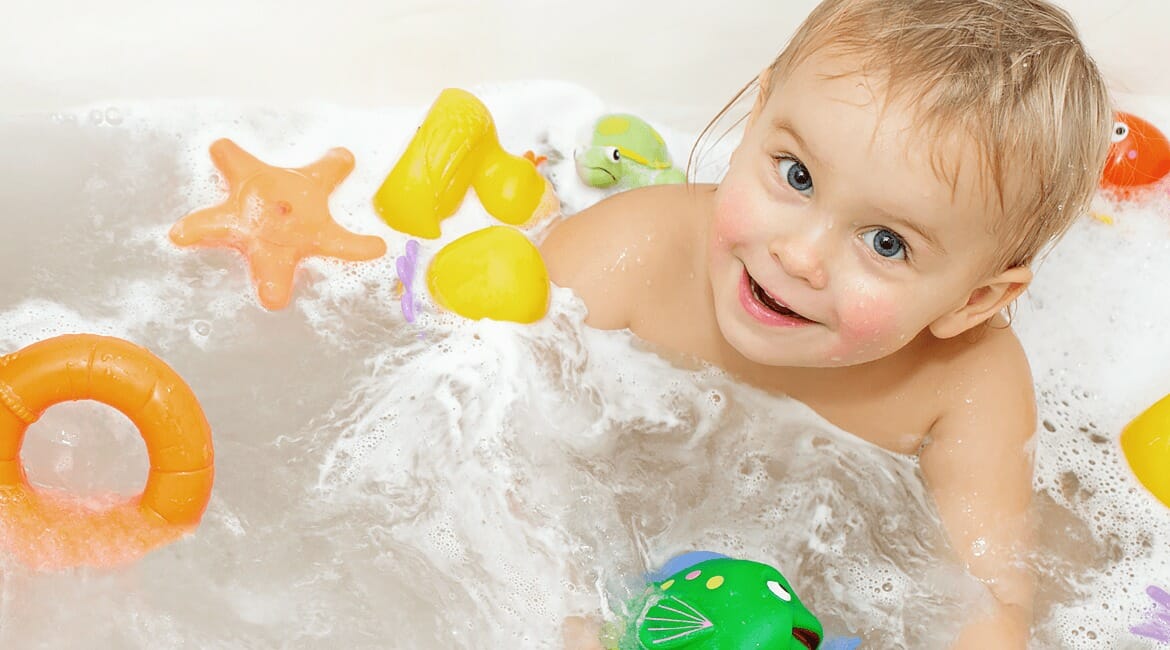 Spill-Proof Cups
These cups are perfect when you want to transition your baby from using bottles to cup. This change can be a trying task as you will be regularly changing their outfits since they might be knocking over and spilling the content of the cup. 
Wooden Stacking Toys
Stacking toys are a versatile gift that will both entertain and stimulate babies visually and mentally. Purchase a toy with a simple design and bold colors to get your baby's attention, which will aid in developing their motor skills and hand-eye coordination.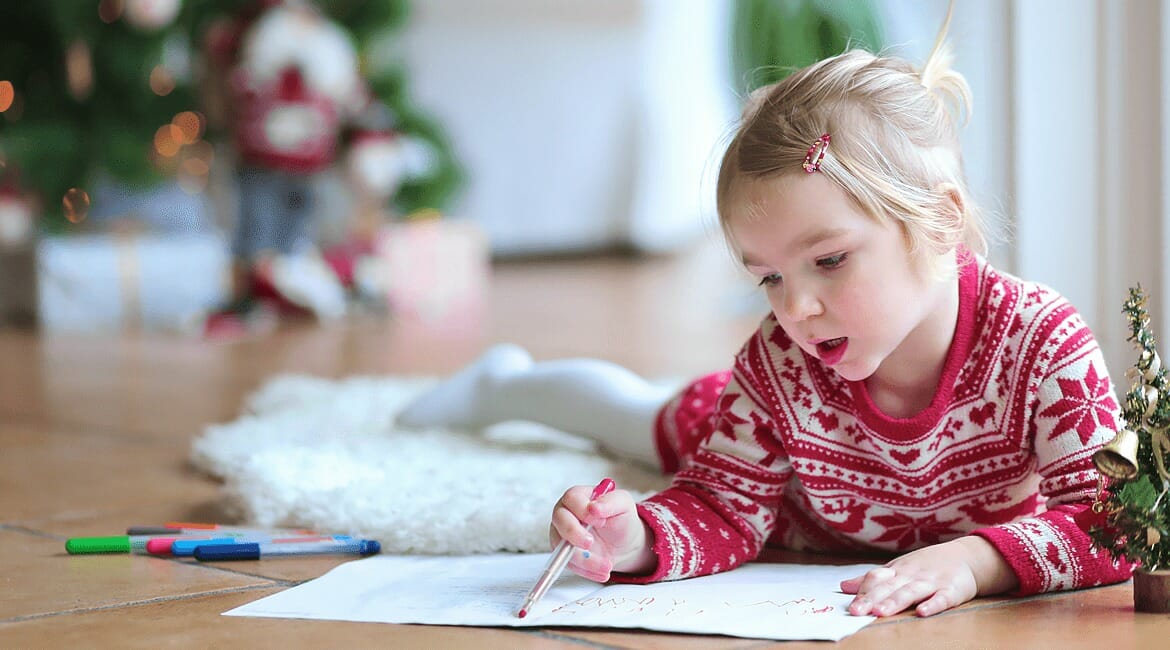 Tips for Children When Writing Letters to Santa
Children writing letters to Santa has been a Christmas tradition in most families for the longest time. 
During this season, kids are always filled with the anticipation of getting gifts from Santa, and there is no better time to sit down with them and let them write letters to the man in red.
Here are tips to help your little ones write an epic letter to Santa:
Pick the right time when your child would not be worn out so they can think well about what they want from Santa.
Before the set date, gather all the needed supplies, e.g., paper, crayons, envelope, stickers, and stamps. 
Encourage your child to tell Santa a little about themselves, favorite things to do, where they are going to be sleeping on Christmas Eve, adventures, etc. 
Do not forget to include their wish list and what gifts they hope to be given at Christmas time.
Let your child be creative and encourage them to sprinkle their letter with colors, stickers, and pictures. This would make it memorable for Santa!
Conclusion 
Babies are easy to please and can pretty much play with anything and everything around them as long as it is safe. Normally, you would want to make the Christmas season special for your baby or another little one; however, do not put too much pressure on yourself. To avoid the pressure, do not keep your Christmas shopping to the very last minute.